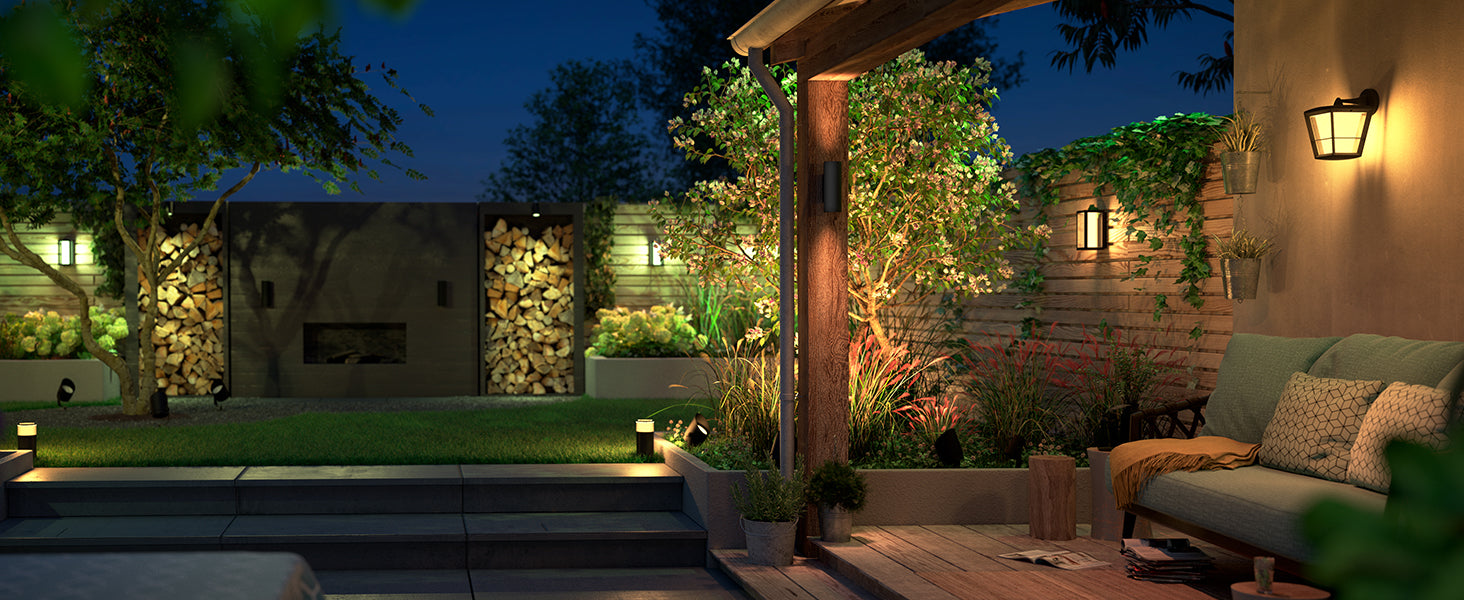 The Hidden Benefits Of Outdoor Lighting
Whether you're at home or not, your space deserves to be lit up. Exterior lighting is a growing trend among homeowners, for the very obvious reasons (security) but also for the not very obvious... which we will highlight for you below!


Added Convenience, Safety & Security
Let's get the obvious out the way. Exterior lighting is a great addition to any home, in this day and age the feeling of safety is one we all take for granted, so why not take the extra precaution and add some to yours. Studies show, home's with exterior lights near entryways (specifically motion sensored ones) are likely to deter more than 75% of criminal activity, now I'd say that's a worthy investment. 
Not to mention, they provide increased safety after dark for your maneuvering also. in addition to it helping thwart crime. Convenience plays a big factor, need that small something from the garden shed? Walk in confidence knowing you're safe and your area is well lit. 
Aesthetics 
Exterior lighting highlights and adds drama to interesting landscape or architectural features. While helping to create comfortable and communal surroundings, such as a defined seating or entertainment area.
The number of people who believe their outdoor space is an important extension of their home is growing. In fact, according to Realtor magazine, the creation of an outdoor room is one of the biggest trends in home ownership in 2018. 
Extended Decor
the right lighting creates a warm and welcoming atmosphere for the exterior of your home and yard and provides ambience for your entire grounds setting. Properly designed low voltage lights focus on the desired effect rather than just having a series of bright runway lights that look like a landing strip. 
Figure out your style,  from LED Strips, to modern or vintage/rustic style fixtures, these days, we're spoilt for choice, it just takes a little time and effort to pick out what's the right aesthetic for your home and feel. Do you want it to mimic the inside? Be completely different? All factors to consider!

Functionality
Landscape lighting can also play a pivotal role in the way you use your outdoor spaces. If you're not using a deck or patio after the sun goes down, you could be missing out on a whole lot of fun. After all, there's no better time to enjoy the cool evening breeze and just unwind from the stress of a long day - particularly useful during seasons when it gets darker earlier.
Not to mention...
- Improves entrance appeal
- Expands outdoor living spaces
- Creates a warm welcome when family and guests enter or are entertained
Just these benefits alone showcase the necessity that is exterior lighting. What's the best lights to look at you ask?
Well... we offer 

Solar Powered, Motion Sensored, IP65 Weatherproof Outdoor Lights, suitable for all gardens and homes, or even are portable enough for travel. for example camping, or to use on mini-vans (caravans). 
We're always working on something new and exciting also, we have changeable coloured options coming soon, strips and new designs. As we expand our outdoor and indoor range we're taking in to consideration what we, as homeowners, would want in terms of functionality as well as a touch of decor. 
Keep updated with us on our email list, blogs and especially our social media! We've got a ton of goodies, and giveaways in the pipeline. 

Until next time,

Stay Lit 💡 (is that what the kids say nowadays?) 
 ______________________________________
Want more simple living room decorating ideas?
READ: Why Lighting Makes all the difference 💡